Outbound dialing is crucial to most businesses, and quickly responding is the key to set more appointments and drive more revenue. Equally as important is the ability connect quickly with the leads that find you over the phone.
We've talked with hundreds of call centers across the country about their outbound and inbound processes. While we consider ourselves experts in helping call centers text and email leads in addition to call, we recognize that outbound calling sometimes needs its own software based on your call center strategy.
Dialer software allows your agents to reach more customers with less effort. By using tools such as automatic dialing, or call routing, these tools can make your team more efficient if you want outbound calling to be a part of your sales process.
Here is a list of the best call center software available in 2021 for your home improvement business.
Five9

Five9 is a leading cloud-based software for call center management. They focus on using practical AI to better predict customer needs and make sure to connect the customer with the right agent. They focus on being a solution for both outbound and inbound calling.
Feature Highlights:
Call Recording
Campaign Management
Inbound Call Management
In-depth Reporting
Five9 Pricing:
Five9 offers pricing based on if you plan to use the product for outbound, inbound, or a combination of both.
RingCentral

RingCentral is another cloud-based software that allows you to contact customers through multiple channels from any phone or web-enabled device.
Feature Highlights:
Call routing
Video Conferencing
Interactive Voice Response
Open API for collaboration
Contact Management
RingCentral Pricing:
$19.99 per month, per user. There is a free trial available as well.
Dialpad

Dialpad is a classic call-focused service that has been around since 2015. With it's simple interface and detailed reporting, it is a popular choice for many call centers - not just home improvement.
Feature Highlights:
Robust reporting
Call forwarding
Call Recording
Interactive Voice Response

Dialpad Pricing:
$75 per month, per user.
Talkdesk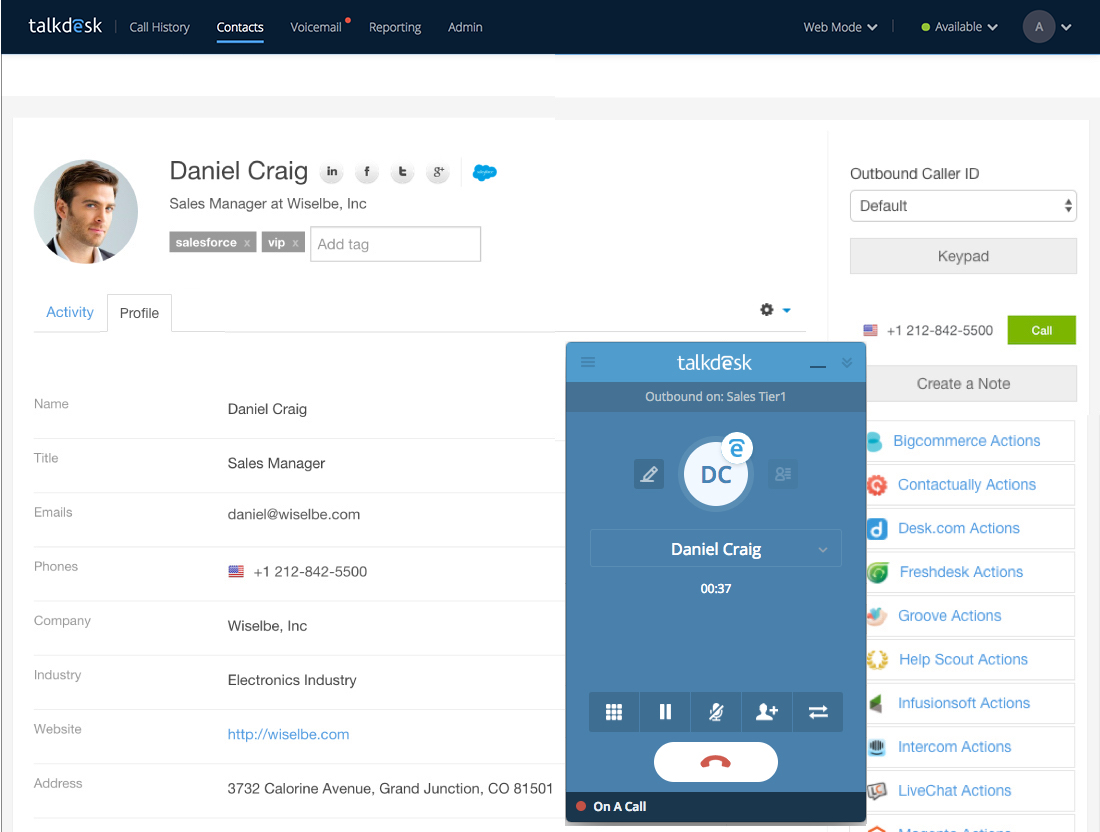 Talkdesk was featured as a top predictive call software in 2020 by Capterra along with Five9. The coolest differentiator for Talkdesk is that it can recommend content to share with your customer based on conversations.
Feature Highlights:
Blended call center
Queue management
Predictive dialer
Real-time chat
Over 60+ integrations with industry software

Talkdesk Pricing:
Quotes are available by request on their website.
Call Rail
CallRail allows you to create dynamic links on your website that send customers to different agents based on criteria you set up. If you want to know exactly how your customer found you before placing a call, CallRail keeps track of that information for you.
Feature Highlights:
Call routing
Campaign attribution
Conversation tracking
Keyword tracking

CallRail Pricing:
$45 per month plus usage overages.
call center Communication
Imagine - A new lead comes into your business from your website or a lead aggregator like HomeAdvisor or Modernize. The quickest your agent can get in touch with them over the phone (on a good day) is usually a few minutes.
Instead of wasting those precious minutes, Hatch sends that lead an automated, personalized text or voicemail from your agent the minute they hit submit.
From there, the lead can text back with your rep and have a conversation immediately. the best part? Hatch will automatically continue to follow-up until they respond through text, email, or voicemails.
If you want to connect with a customer outside of just calling, schedule a demo with Hatch to experience the platform for yourself!

Want to see how call centers like Kohler, NewPro, and Reborn Cabinets increased their appointments, close rates, and bottom-line revenue with Hatch?
Check out our free case study below -